TEC Garage presents Tech Talk at Microsoft: Tech entrepreneur, executive, investor, advisor Thomas Wallace
With tech career ranging from co-founder/CEO of Tampa Bay Tech Forum, to Microsoft board member, Thomas Wallace to speak on Startups and Raising Capital
TAMPA, Fla. — TEC Garage, a St. Petersburg-based innovation and entrepreneurship center for tech businesses, will hold its quarterly "Diary of an Entrepreneur" program on Tuesday, April 10, at 8:30 a.m. at Microsoft Headquarter offices, 5426 Bay Center Drive, Suite 700, Tampa. Esteemed tech industry leader Thomas Wallace will discuss "Startups and Raising Capital" among other insights from his 25-year career as a successful tech entrepreneur, executive, investor, and much more, including creating/building/running/selling several tech companies.
WHO:  Tom Wallace (tech pioneer, managing partner Florida Funders)
WHAT:  TEC Garage's Tech Talk "Diary of an Entrepreneur" series
TOPIC:  Startups and Raising Capital
WHERE:  Microsoft Headquarter offices, 5426 Bay Center Drive, Suite 700, Tampa
WHEN:  April 10, 8:30 a.m.
RSVP:  https://TechTalkApril2018.eventbrite.com (No Fee / Space Limited)
Presented by TEC Garage, Diary of an Entrepreneur is a networking and education event developed to meet interests of local tech leaders, innovators, startups, investors, and anyone interested in growth and success of tech innovation and entrepreneurship in the Tampa Bay area.
There is no fee to attend, but space is limited.
Registration is recommended: https://techtalkapril2018.eventbrite.com.
Questions: Mary Rodriguez Gort at 727.547.7341 or GortM@TBInnovates.com.
Tom has been a technology entrepreneur since co-founding his first company at the age of 23. He has been involved in starting, investing, growing and building businesses ever since. Tom has also been an active tech angel investor for the past 25 years. His investments include: Vector Solutions (sold to Providence Equity Partners, Tribridge (sold to DXC Technology), Q-Link (sold to Adobe), Adjoy, Threshold-360, all the Florida Funders portfolio companies, and many others. Prior to joining Florida Funders, Tom served as CEO of Vector Solutions, a SaaS company in the online training compliance space, which he invested in 2003. In 2016 Vector Solutions was purchased by Providence Equity Partners, a $40 billion private equity firm, giving Tom a 50x return on his investment.
Tom and his lifelong business partner, Kevin Adamek, built and sold two other successful companies. The first was a Value Added Reseller which they started in 1983 and sold in 1990 to a large publicly traded NASDAQ company. The other was a Network Integration company which they started in 1990, grew to over 350 employees and $80 million in sales, and sold to a Fortune 500 company in 1997.
Tom has been active in the Florida technology community for the past 25 years. He was one of the original founders of the Tampa Bay Technology Forum in 2001, and served as CEO for the first three years. He presents at tech conferences about entrepreneurship and raising capital. Over the course of his career he raised well over $100M – for his various companies – from venture capital and private equity firms. Tom serves as a judge for pitch competitions as well as the E&Y's "Entrepreneur of the Year" award. He has also been a finalist for this award twice himself.
His past Board roles include: Tampa Bay Technology Forum, Microsoft Advisory Board, University of Tampa Trustees, Vector Solutions, Tribridge, Q-Link, and the Boys & Girls Club of Tampa Bay.
Present Board roles include: Florida Funders, First Tee of Tampa Bay, and Pikmykid.
Tom feels he has had some big wins, some strikeouts, and many ventures and investments that fell in between. He believes he's learned much more from his failures than from his successes. For Tom, business is all about putting together the right team, setting big goals, staying laser focused, and being fanatical about product design and customer service. From an investment standpoint, he says, "We bet as much on the jockey as the horse." As such, Tom enjoys personally getting to know the founders of the companies that are vetted through Florida Funders.
About TEC Garage:
St. Petersburg-based TEC Garage supports entrepreneurial success, fosters the creation of high-tech jobs and develops new sources of tech and manufacturing capabilities by nurturing early stage ventures as they grow and launch into the marketplace. TEC Garage offers programs that are designed for entrepreneurs, innovators, investors and others interested in business intelligence, planning and business formation, strategy execution and technology transition.
Follow TEC Garage on Twitter at https://twitter.com/TECGarageStP, and on Facebook at https://www.facebook.com/TECGarageStP.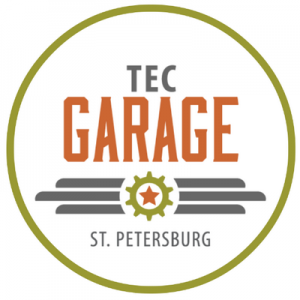 More at: Tampa Bay Business Journal.