This is a regular question. APR stands for Accreditation in Public Relations. While there is no required certification or licensing for one to have a "Public Relations" or "PR" in their title or listed among their litany of services – the APR distinction indicates a level of experience, understanding, and accomplishment in the encompassing practice of public relations.
Some call the APR process a mini-grad school in PR. It's around six months of classes and studying, a written part, a panel part, a big test part – not dissimilar from many certificate or accreditation courses. A few benefits include:
Education: The process of earning the APR often introduces seasoned professionals to pieces of strategic public relations of which they may not have perviously been familiar. Areas of focus are broad and relevant: research methodologies, strategic planning, business acumen, management, ethics, communication models and theories, and the history of public relations.
Credibility: It doesn't hurt to have that instant dose of cred when meeting an industry colleague for the first time, in or out of market. Or outside the industry. Many don't know the PR practice offers official accreditation (or much about the PR practice in general). Fellow professionals can have some assurance that the PR practitioner they're speaking with has successfully completed some in-depth stuff and continues to keep up with the industry to maintain the accreditation.
Relationships: Like any other class-like experience it's not uncommon for rooted relationships to bud among APR course-mates. Additionally, when the question arises, it's a conversation-starter to share cool parts about your profession (such as stewarding helpful, accurate, and actionable information).
Are all APR people the best ever? Of course not. If someone doesn't have it, are they inherently not as good? Of course not. Just if you've got a PR question or need and aren't sure where to start, it's one thing worth considering.
For more information about the Accreditation in Public Relations, check out PRSA. Or Wikipedia. Or ask around – the process and the distinction means different things to different people.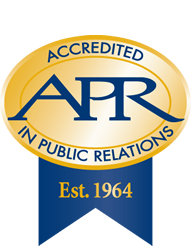 Jesse Landis, APR (accredited in 2009), has a decade-plus experience in public relations, advertising, and strategic planning for a range of industries and clients. He has served in leadership positions with several communications agencies and organizations.