One of Florida's premier architecture and design firms, Wannemacher Jensen Architects, recently launched a new website that (in our biased opinion) is more befitting of the firm's impact on locales from St. Pete and Miami to many others around Florida and beyond. In the City of St. Petersburg alone Wannemacher Jensen (WJA) has completed more than 250 projects.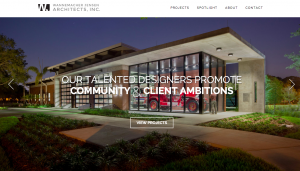 Known largely for high-profile buildings, facilities, and parks; many are surprised to learn the firm also does substantial work involving interior design, lighting, and entertainment venues – they even design and direct main stage lighting for such major national events as Coachella Music Festival.
With multiple cool projects consistently underway, we're always looking forward to hearing about what they're working on next (one recent notable project is the Madeira Beach Municipal Complex).
Roundhouse Creative designed and built the site, and Vibe Digital Media optimized and is hosting the site. And worth noting, as designers themselves, WJA was heavily involved in creating their new website.